Perhaps you came to this recipe because you are one of those fantastic dog parents that would never feed your fur baby a store bought chemical mess as a treat.
Or maybe you just love making your pets themed treats. After all, they are part of the family, right? They shouldn't be left out of the festive fun.
In my mind, all my readers are so sophisticated.
But, reality is, I am not. I buy my dog cheapo treats from the store or given them baby carrots to convince them to do the things I want. I seriously never saw myself making pet treats for my girls, love them through I do.
HOWEVER, Z. is on a diet. And good wives do not fill the house with pumpkin breads and sugar cookies when their husband is trying to lose weight. Doing so would be a dick move and ain't nobody got time for that in marriage.
On the other hand, not baking during this time of year is also impossible to image. I wait all year long for the weather to get cool enough that I can use my oven without making the house feel like inferno.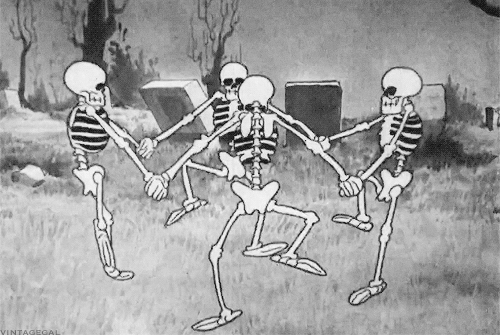 Hence, baking for the dog. I took my inspiration from this blog, but changed it around to meet my own needs.
This recipe makes approximately 30 dog cookies. All you need is a few ingredients and a cookie cutter. I chose a few of my favorite Halloween cookie shape – bats, pumpkins, and ghosts, oh my!
 So cute. And so easy.
Ingredients
Spray oil
2 1/2 cups whole wheat flour. May mix in extra 0.5 cup if too wet.
2 eggs
1 cup pumpkin puree
2 bananas broke into pieces. The riper, the better
Instructions
Preheat oven to 350°F.
Lightly spray baking sheets with Pam or cooking spray.
Mix all the ingredients together. I found it easier to mix everything together, except one banana and add that at the end for extra moisture. You know it's done when it is a giant ball.
Dust the counter and a rolling pin with flour, then roll out dough to approximately 1/4″ and cut out treats.
Bake for 14 minutes. Cool on rack before feeding to dog.